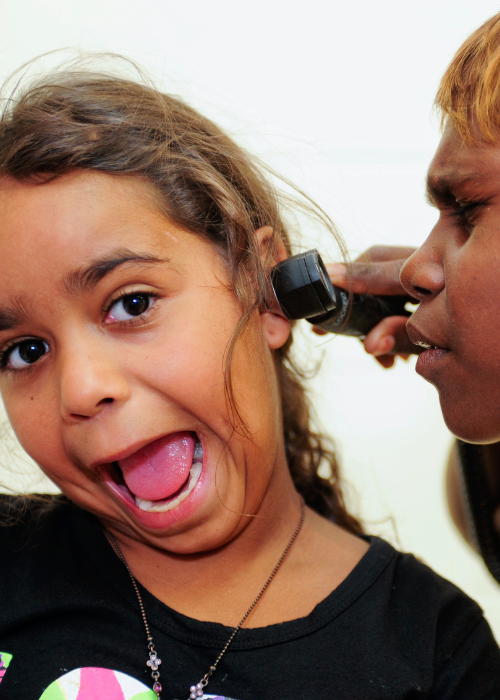 Work as a remote Audiologist
We recruit Audiologists as casual employees or contractors for 3 to 12 week paid placements.  
As a RAHC Audiologist, you will prevent and treat ear health issues in a remote Aboriginal community in the NT. 
Your contribution will improve access to quality healthcare. You will help generate opportunities for better hearing, health and education outcomes for Aboriginal and Torres Strait Islander peoples.
RAHC Audiologist role
Having healthy ears helps Aboriginal and Torres Strait Islander children connect with language and culture, and engage at school.
RAHC Audiologists work as part of a supportive health service team to prevent, treat and monitor ear disease in Aboriginal and Torres Strait Islander people.
You will work with experienced Aboriginal health practitioners, General Practitioners, nurses, drivers and administration staff.
Their remote knowledge will assist and guide you to provide culturally safe care for children and their families.
What you can expect as a RAHC Audiologist
We'll take care of the arrangements for your placement. Throughout the process, we'll talk to you and the health service you will join.
As you transition to a remote setting, we provide cultural orientation and ongoing support so you can concentrate on providing a quality ear health care service to the community.
As an urban-based audiologist, you already have the skills to work in a remote community. But the health issues you work with in remote communities might be different to those in urban and rural areas.
You can expect to expand your skills and knowledge. You will have plenty of resources to support your new experiences, including the RAHC eLearning program.
So you can transition smoothly, we will provide:
free online training valid for CPD with ACRRM
24/7 support
information about the community where your placement is, and logistical information about travelling to, living and working there. 
Testimonials
Providing such an audiology service to remote communities is vital. The most rewarding aspects of my work with RAHC are meeting the children and carers and then seeing the results of a visit.
Andrea Lovatt
Audiologist
Both the RAHC team and Top End NT Hearing are a pleasure to work with. I have already accepted another placement. Thank you for asking for my feedback and for your care and consideration at all stages of this placement.
Jan Welsh
Audiologist
Such a challenging time to be arranging logistics for travel and [COVID-19] compliance.
It was handled as well as can be expected with the ongoing changes to requirements. I felt valued and treated as a real person by the RAHC team and by the HP team. My needs were understood and met as per best available resources. This supported my wellbeing during placement, mental as well as physical. Having 24/7 contact persons was invaluable when working away from usual support systems. Thanks.
Susan Tuck
Audiologist
[I have] loved each placement I have been on. [I] will definitely go on another again.
Sandra Lee
Audiologist