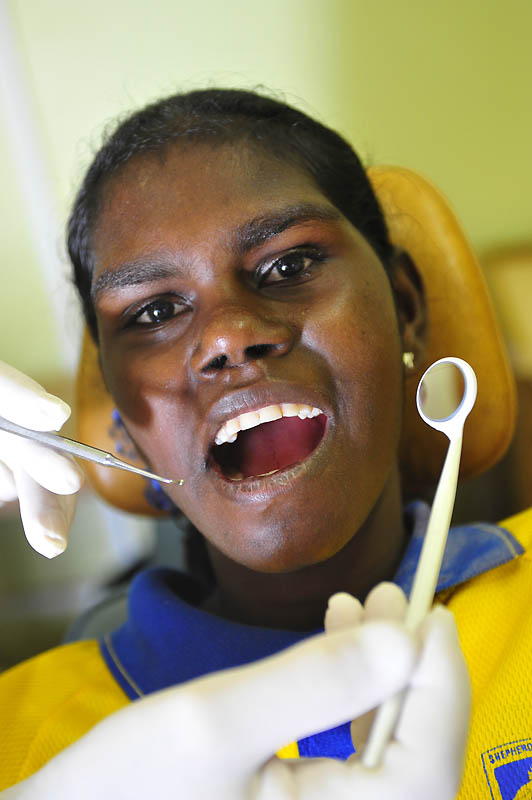 Work as a Dentist, Dental Assistant or Dental / Oral Health Therapist
We recruit oral health professionals as casual employees or contractors for 3 to 12 week paid placements.
As a RAHC oral health professional, you will prevent and treat oral health issues in a remote Aboriginal community in the NT.
Your contribution will improve access to quality healthcare. You will help generate opportunities for better health outcomes for Aboriginal and Torres Strait Islander peoples.
RAHC oral health professional role
Good oral health can influence the wellbeing of the whole body and mind.
RAHC Dentists, Dental Assistants and Dental / Oral Health Therapists work as part of a holistic community health service team.
You will be supported with highly experienced Aboriginal health practitioners, General Practitioners, nurses, drivers and administration staff.
The team's remote knowledge will assist and guide you to provide culturally safe oral health care.
What you can expect as a RAHC oral health professional
We'll take care of the arrangements for your placement, talking to you and the health service you will be joining throughout the process.
As you transition to a remote setting, we provide cultural orientation and ongoing support so you can concentrate on providing a quality oral health care service to the community.
As an urban-based dentist, dental assistant or dental therapist, you already have the skills to work in a remote community. But the health issues you work with in remote communities might be different to those in urban and rural areas.
You can expect to expand your skills and knowledge. We provide plenty of resources to support your new experiences, including the RAHC eLearning program.
So you can transition smoothly, we will provide:
free online training valid for CPD with ACRRM
24/7 support
information about the community where your placement is, and logistical information about travelling to, living and working there.
Testimonials
I am currently on my 16th placement and can honestly say that I am still inspired to seek more. Every placement is unique. The locations, people, experiences and memories all so different but equally great. It takes a sense of adventure and often a sense of humour to make the experience work. Fortunately, we always seem to have an abundance of both.
I would encourage anyone to leave their comfort zone and be open to the opportunities offered by remote work.
Lynne Gruell
Oral Health
Every day and every community are different. That goes for the dental clinic too.
I feel blessed with the opportunities working for RAHC has given me. The best thing about remote dental work is that it's never boring or predictable and that's what keeps me coming back for more.
Vicki McFarlane
Oral Health
[My placement] was a great experience. We went into classrooms and the kids were great - very interactive. My [colleague] was amazing to work with and very supportive. We had a productive, fun placement. Thank you for that opportunity.
[My placement was a] great experience. [There was] excellent staff and support.
Leanne Atra
Oral Health
[RAHC] is a professional service that I've been using for years. [I am] pleased to continue using RAHC as my sole provider of work and am privileged to work with these communities.
Anver Omar
Oral Health
[I] love working with RAHC and [the clinic]. It is always an absolute pleasure!
Natalie Geerkins
Oral Health
I had a very positive placement and look forward to hearing back about the next EOI put in.
Michele Woolfe
Oral Health
Thanks for a great first experience with RAHC. I look forward to completing other placements.
Breeanna Cowan
Oral Health
I had a great experience. I felt welcomed and included by everyone. Thank you for the opportunity!
Blazenka Pavlovic
Oral Health