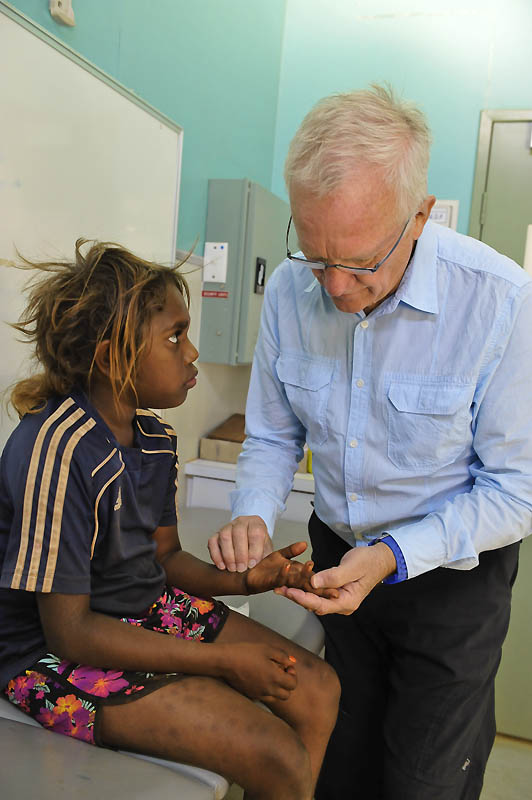 Work as a remote GP
We recruit GPs as casual employees or contractors for 3 to 12 week paid placements in remote Aboriginal communities in the NT.
Your contribution will improve access to quality healthcare and generate better health outcomes for Aboriginal and Torres Strait Islander peoples.
RAHC GP role
RAHC GPs work as part of a dynamic and diverse team to deliver holistic, culturally safe primary healthcare.
Your team will include highly knowledgeable Aboriginal health practitioners, nurses, drivers and administration staff. Their remote healthcare experience will support you in your important role.
What you can expect as a RAHC GP
We'll take care of the arrangements for your placement. Throughout the process, we will talk to you and the health service you will work with.
As you transition to a remote setting, you will have ongoing support so you can concentrate on providing a quality service to the community.
Before your first placement, we'll provide:
cultural orientation
clinical orientation valid for Cat 1 CPD points with ACCRM.
If it's your first time working in a remote setting, you can also request a Remote Educator to help you to transition your skills and experience into a new environment.
As an urban-based GP, you already have the skills to work in a remote community. But the health issues you work with in remote communities might be different to those in urban and rural areas.
You can expect to expand your skills and knowledge. We provide plenty of resources to support your new experiences, including the RAHC eLearning program.
So you can transition smoothly, we will provide :
free online training valid for CPD with ACRRM
24/7 support
information about the community where your placement is, and logistical information about travelling to, living and working there.
Eligibility to apply
Remote health services select RAHC GPs based on their local healthcare needs.
For this to happen, you must first become 'credentialed' with RAHC. This means you send us the below information when you apply, and we provide this to an external expert.
They will certify that you have the experience needed for a RAHC placement.
Once you're credentialed, you can respond to EOIs (expressions of interest) for placements. Our workforce coordinators send these out.
We send your EOI responses to the remote health service, and they may select you for a placement.
Becoming credentialed doesn't guarantee a placement. It only gives you access to EOIs for upcoming placements.
Respond to EOI requests every time you want to do a placement. You can do more than one placement this way.
To help with the credentialing process, have these things ready when you apply to be a RAHC GP.
Employment history and references
A completed GP application form .
Current CV showing:
initial qualifications and relevant employment history, noting reasons for any gaps
a statement of service showing at least 250 clinical hours in the last 12 months.
Two reference check forms from:
a GP colleague who you've reported to or has held a senior position in your current organisation for at least 3 months
a GP who is either a peer or in a more senior role to you who you've worked with clinically for at least 3 months.
If applicable, details of any suspensions or actions from Ahpra (the Australian Health Practitioner Regulation Agency) and evidence of a certificate of good standing.
Personal clinical skills and qualifications
A copy of your Bachelor of Medicine/Bachelor of Surgery and any relevant postgraduate qualifications.
Evidence of Basic Life Support (BLS) certificate or Cardio-Pulmonary Resuscitation (CPR) completed in the past year, including the practical and theoretical components. 
A statement of your current triennium CPD activities/points with RACGP or ACRRM.
Evidence of previous triennium CPD activities/points with RACGP or ACRRM.
Verification of qualifications form.
If you're certified for Implanon procedures: a copy of your Implanon certification.
Proof of identity
Copies of your:

current, unrestricted driver's licence (if you don't have one, you must provide your passport and birth certificate).
current Australian or New Zealand passport or full birth certificate.

A colour passport style photo for your RAHC ID card.
If applicable, evidence of name changes.
If not an Australian Citizen, evidence of permanent residency.
Registration and insurance
Certificate of Fellowship (RACGP or ACRRM) or evidence of Vocational Registration.
If you're applying as a contractor – your ABN and evidence of professional indemnity insurance.
Working with Children clearance application
You must have a Working with Children (WWC) clearance or exemption to work in the NT. The process takes 4 to 6 weeks, and must be done before your placement.
Apply through SAFE NT Online Services.
We'll reimburse the application fee on your first placement when you give us your WWC clearance notice number.
If you're a GP and would like to talk about joining RAHC, talk to our team.
Testimonials
[RAHC] are utterly professional and committed to the Health Professional. Their logistics management, ongoing support and attention to detail are superior to anything I've seen in the field.
Richard Davey
General Practitioner
I was fortunate enough to work with some excellent RAHC nurses during this placement.
Rowena Bright
General Practitioner
Very interesting and challenging work but with excellent support.
Ann Parker
General Practitioner
Orientation is well-planned and delivered in a clear and concise format.
Elizabeth Christie
General Practitioner
The online learning modules were very beneficial: relevant and empowering.
Douglas Randell
General Practitioner
I cannot speak highly enough of Kalkaringi Clinic, and Katherine West Health Board, as a well-organised, friendly and interesting place to work. I feel I am doing something worthwhile, as well as enjoying the team atmosphere where I teach and learn as part of a team of doctors, nurses, Aboriginal health workers and administration staff. It has been a great experience.
Heather Ferguson
General Practitioner
The staff at Wadeye Health Clinic are doing an excellent job. They are committed to aboriginal health and the community of Wadeye. I was very impressed by their skill and professionalism. I enjoyed working with an excellent team of remote area nurses who made me very welcome.
Mark Henschke
General Practitioner