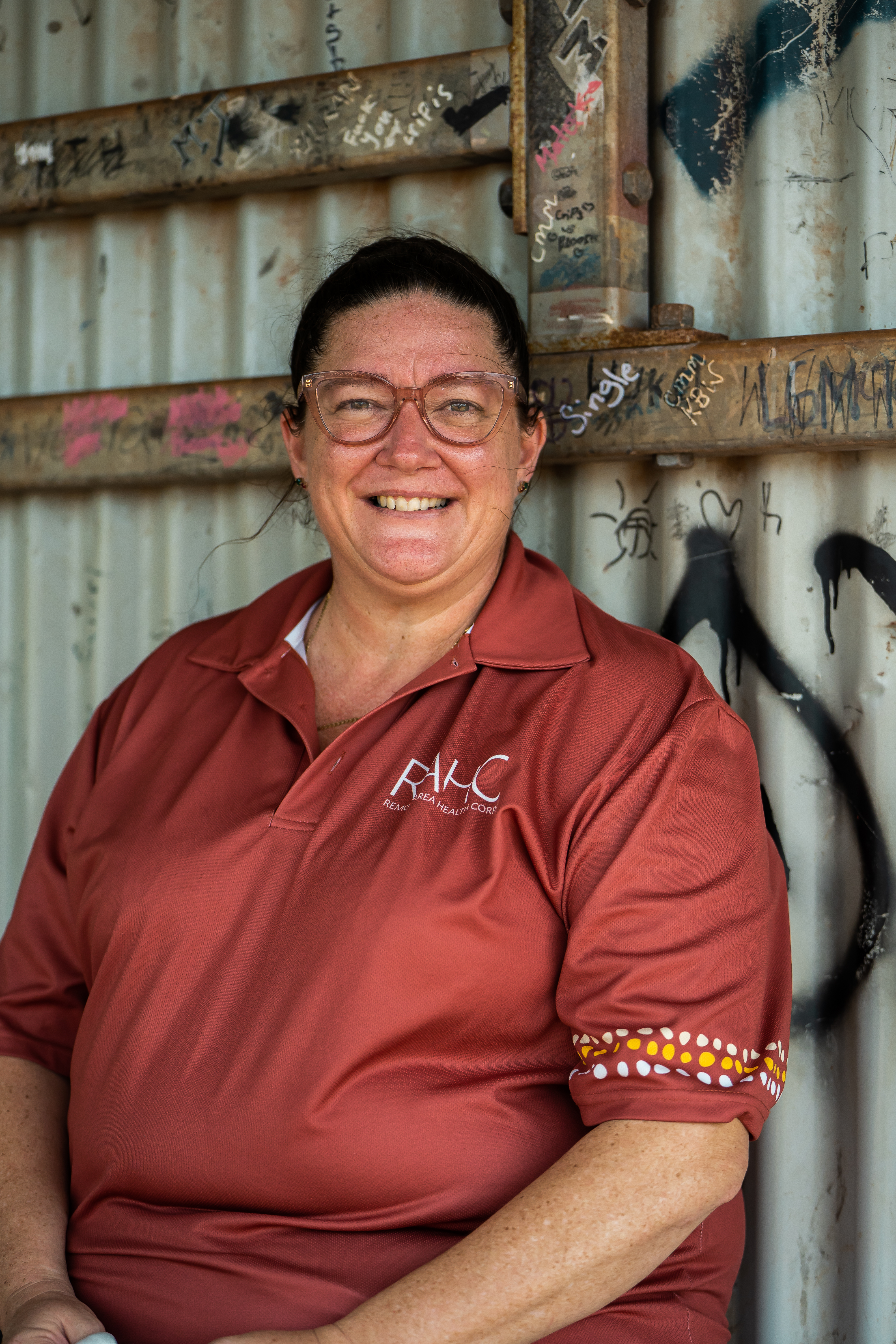 Work as a remote nurse or midwife
We recruit RNs as casual employees or contractors for 3 to 12 week paid placements.
As a RAHC nurse or midwife, you will work in a health service in a remote or very remote Aboriginal community in the NT.
Your contribution will improve access to quality healthcare and help to generate better health outcomes for Aboriginal and Torres Strait Islander peoples.
RAHC Registered Nurse role
Every day is different as a RAHC RN, with rewarding experiences that will enhance your career.
RAHC RNs are a versatile and essential member of the health service team, which includes Aboriginal health practitioners, GPs, drivers and administration staff.
The team's remote knowledge will support you in your important role in delivering holistic, culturally safe primary healthcare.
What you can expect as a RAHC nurse
We'll take care of the arrangements for your placement. Throughout the process, we will talk to you and the health service you join.
For your first placement, we'll help you to understand the principles of remote primary healthcare, so you can give a quality service to the community you support. We'll do this through providing:
a Remote Educator (RE) to help you transition your own skills and experiences into the remote environment
cultural orientation
clinical orientation valid for CPD points for ACCRM.
As an urban-based RN, you already have the skills to work in a remote community. But the health issues you work with in remote communities might be different to those in urban and rural areas.
You can expect to expand your skills and knowledge. You will have plenty of resources to support your new experiences, including the RAHC eLearning program.
So you can transition smoothly, we will provide:
free online training valid for CPD with ACRRM
24/7 support
information about the community where your placement is, and logistical information about travelling to, living and working there.
Eligibility to apply
Remote health services select RAHC RNs based on their local healthcare needs. For this to happen, you must first become 'credentialed' with RAHC. This means you send us the below information when you apply, and we provide this to an external expert.
They will certify that you have the experience needed for a RAHC placement.
All RNs must meet minimum credentialing criteria, including at least 3 years' full-time clinical experience, to be considered for a placement in a remote community. 
Once you're credentialed, you can respond to EOIs (expressions of interest) for placements. Our workforce coordinators send these out.
We send your EOI responses to the remote health service, and they may select you for a placement.
Becoming credentialed doesn't guarantee a placement. It only gives you access to EOIs for upcoming placements.
Respond to EOI requests every time you want to do a placement. You can do more than one placement this way.
To help with the credentialing process, have these things ready when you apply to be a RAHC RN. If you're unsure if you meet the requirements, contact the clinical team.
Employment and education
Bachelor of Nursing degree or equivalent.
Minimum of three (3) years of postgraduate experience.
Unrestricted registration to practice as an RN with Ahpra (the Australian Health Practitioner Regulation Agency).
Evidence of current Basic Life Support (BLS) certificate or Cardio-Pulmonary Resuscitation (CPR)  completed in the past year, including the practical and theoretical components.
Current recognised Immunisation certificate ie SA Understanding Vaccines and the National Immunisation Program.
CPD compliance as required by the Nursing and Midwifery Board of Australia.
A statement of service showing at least 250 hours clinical work in a relevant setting over the past 12 months.
Two professional referees who can attest that you have worked clinically for at least 3 months, including one reference from a current or recent line manager or supervisor.
You don't need previous remote or Aboriginal and Torres Strait Islander health experience, but it's welcomed if you have it.
Proof of identity
Copies of your:

current, unrestricted manual driver's licence.
current Australian or New Zealand passport or full birth certificate.

A colour passport style photo for your RAHC ID card.
If applicable, evidence of name changes.
If not an Australian Citizen, evidence of permanent residency.
Working with Children clearance application
You must have a Working with Children (WWC) clearance or exemption to work in the NT. The process takes 4 to 6 weeks, and must be done before your placement.
Apply through SAFE NT Online Services.
We'll reimburse the application fee on your first placement when you give us your WWC clearance notice number.
Specialisation requirements
Registered Nurse – general
At least 3 years of relevant clinical experience in more than two disciplines, including (but not exclusive to):
Surgical
Medical
Aged Care
Palliative Care
Oncology
Pediatrics
ICU/Coronary Care
Emergency
Registered Midwife
Unrestricted registration to practice as a Registered Midwife and General Nurse.
Completion of an education program leading to registration to practice as a Registered Midwife.
Post-graduate experience of at least two years in midwifery.
At least 250 hours of clinical practice in midwifery and 250 hours clinical practice in general nursing over the past 12 months.
Current BLS and/or Advanced (Cardiac) Life Support (ALS/ACLS) certificate.
Neonatal resuscitation and practical competency in accordance with current ARC guidelines.
Becoming a Registered Nurse with RAHC
"When you're a remote area nurse [with RAHC] you end up finding that you're a bit of a Jack of all trades and you have to be willing to expand your scope of practice and be willing to do things that you might not normally see in a hospital. So you're going to be fulfilling a whole range of different roles so you're going to be seeing patients across the whole scheme of life".
- Andrew Todd, RAHC Registered Nurse
Testimonials
I have worked with RAHC for 12 years. Every experience has been fantastic.
What a privilege to work remote. RAHC always look after you. I've always felt supported and safe out bush.
They are thorough with their credentialling as they wish to maintain a high standard of nursing. For new-to-remote nurses, you are well supported by a Remote educator. This sets you up not to fail in your first placement. For anyone wishing to work remotely, I can highly recommend RAHC.
Maree White
Registered Nurse
My job in a city location is limited in comparison. [In community] I can do more in the medical sphere, in spots where I may be only one of two in a nurse-only clinic. We work as part of a team and Northern Territory doctors are great at advising over the phone. I've extended my skills with amazing visiting nurses, doctors and Aboriginal and Torres Strait Islander health workers in those communities.
Mayoko Homna
Registered Nurse
[Placement] was an amazing experience. Having a remote nurse educator for orientation made a big difference for my first placement. I am really grateful for the support.
Thank you to RAHC for giving me the opportunity to do a placement in remote Australia. It was a great challenging experience. In a very short time, I have learnt so much. Against all odds, I am glad I took the step and courage to come to remote Australia.
Annemarie Limacher
Registered Nurse
My life has changed out of sight in so many ways. I've learnt skills I never thought possible, met wonderful people and learnt about their culture. I'm so happy for my "now or never" moment.
Karen Wright
Registered Nurse
Great placement. [I was] well looked after [and] will definitely go back given the opportunity.
Prudence Wheelwright
Registered Nurse
The provision of a mentor for my first week was of great value. The staff at Yuendumu also provided great guidance and assistance in helping me transition to the remote nursing setting.
Lisa Wieske
Registered Nurse
I am very happy that I have had this experience. After my time with Anyinginyi, I feel extremely confident that I am well qualified for further placements with RAHC […]
Sybil Rose
Registered Nurse